Nuclear Magnetic Resonance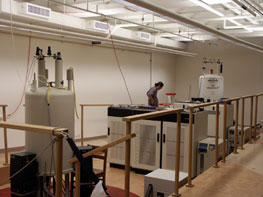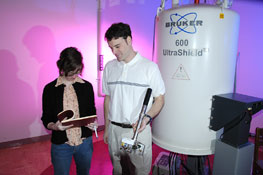 The Department of Chemistry and Biochemistry NMR Facility is a state of the art instrumentation laboratory containing four NMR spectrometers, a Bruker DRX250, a Bruker DPX300, a Bruker DRX500 and a Bruker DRX600. All the NMR's are the latest digital spectrometer design and are equipped with pulse field gradients allowing for all multinuclear and multidimensional NMR experiments to be performed. A silicon graphics interface allows for convenient processing and analysis of spectra.
A newly remodeled joint NMR/X-ray facility in the basement of Gaines Hall houses the 500 and 600 MHz spectrometers. The 250 and 300 MHz NMR spectrometers are located in a facility on the first floor of Gaines. Graduate students are given complete access to the spectrometers and routinely run the most complex modern NMR experiments. The facility is overseen by Dr. Scott Busse who has extensive experience with a wide range of NMR experiments on large and small organic and inorganic molecules.